Diamond Drilling
Now and established sector of the  777 Group – our diamond drilling and sawing operation adds a whole new dimension to our demolition service.
Using the latest state-of-the-art equipment and some of the most experienced operators in the industry, we can now offer high-precision drilling and sawing through practically any material.
Whether your project is a new build, a refit of an existing building, or as part of a planned demolition, 777 can offer fully automated and computer-controlled precision track sawing to any length or depth and fast and effective drilling to any diameter.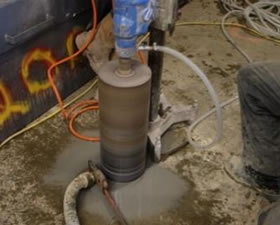 Diamond Concrete Coring
Visit our other Environmental pages