RDF Production
Our RDF Facility at Coomber Way, Croydon is leading the way with our new state of the art large scale RDF (Refuse derived fuel) processing plant.
Located on our three acre site; with its close proximity to our head office. We have currently process over 300-500 tonnes of waste per day. Approximately only 2% of this is sent to landfill.
The global realisation that the world must be protected for future generations has rendered it a science. Recycling acknowledges that the Earth's natural resources simply cannot continue to be used just once. We currently recycle or re-use 98% of all materials as well as providing skip hire, and fully accredited asbestos management.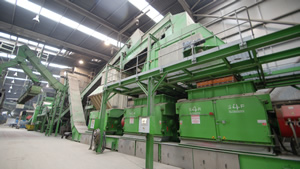 Visit our other Recycling pages