Dismantling
The increasing demand for replacement of out date and redundant tower blocks has enabled 777 to demonstrate our ability to dismantle tall structures safely and securely.
Whether blocks are system built or structures cast insitu, the heights determine that different methods of dismantling are required. This is a complete package including the removal of any asbestos prior to the works and includes the design and installation of tower crane bases.
Before any crane lifting operations are commenced, site-specific studies are undertaken, detailing the exact planned position of the cranage, the types and weights of the elements to be lifted and the precise cutting operations to be effected.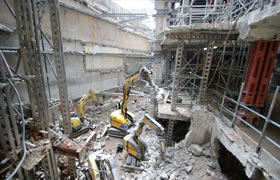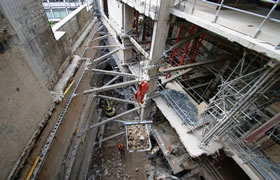 Facade Retntion & Propping to The Dorchester
Visit our other Demolition pages