Heavy Plant Hire
The 777 Group are proud supplier of specialist operated heavy machines on either a short term contract or lease hire basis, the equipment currently ranges from 13 tonne to 165 tonne excavators.
The 777 Group proudly boasts the largest Super Long Reach Excavators available for hire in the UK. With an extensive fleet of over 30 operated Heavy machines 777 Group are leading the way.
Combined with purpose built premises a modern range of equipment and long established dedicated workforce with a single aim to guarantee 1st class service of Hire, Sales and service.
Attachments
The following attachments are also available for hire
Crackers, Hammers & Compactors
Call us now 0208 689 6861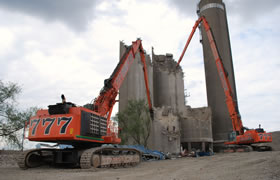 Two of our Hitachi 1200 Super Long Reach's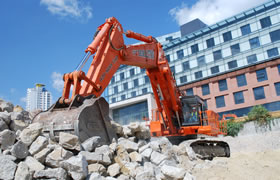 1200 also with short arm for bulk excavation.
Visit our other Demolition pages