Marine Decommissioning
Our complete solution approach from making safe, asbestos removal and the inevitable heavy decommissioning works with the use of our super long reach capability positions 777 at the forefront in the marine decommissioning industry.
Our Vision & Values
Our core values of quality, integrity, openness, our caring philosophy and progressive approach to demolition underpin our culture and exemplify the approach we adopt with all our stakeholders.
777 has a reputation for delivering complete demolition solutions and for working in partnership with client organisations, Professionals and supply chains.
We recognise the importance of understanding how the project will impact on end users – be they residents of affordable or open market housing, hospital patients and clinicians, students and teachers, road and rail users, businesses or other members of the public.
The Company has a  high level of technical expertise that is apparent in the work we conduct in all our sectors.  This also includes advising prior to planning with budgetary and technical support given at the earliest opportunity, in an open and collaborative way.
777 Marine Methodologies
Beaching
This is the process used in 95% of ship recycling today – key locations being Chittagong in Bangladesh, Alang in India and Gadani in Pakistan. What makes these areas 'hotspots' for recycling is their very big tidal ranges and expansive mudflats. This combination means that at spring tides, ships can be driven as far up the beach as possible, over the mudflats and onto the beach.
Slipway
This is essentially a modification of beaching but with some crucial differences. There are many small-scale and historical recycling locations which may be described as slipways, such as Inverkeithing in the UK, used after the Second World War, and other locations in Europe today. A critical difference between beaching and today's slipway recycling is the tide. The ship still goes hard against the shore or, preferably, a concrete slipway extending to the sea.
Normally pieces are removed from the ship by mobile crane working from the shore. The ship is still dragged up the shore as it is lightened, but because the tide is constant, a permanent, predictable and stable water front exists, where the lifting and access operations take place.
Alongside
This approach is typified by Chinese yards. An abandoned wharf, quayside, or purpose built facility may be used. The vessel is secured alongside in the sheltered waters and pieces are removed by crane.  The process is 'top down': the superstructure and upper pieces are removed first, then the work continues along the ship into the engine room until only the double bottom is left. This is called the 'canoe'.
Drydock
This is the safest, cleanest method of ship recycling but is undertaken relatively rarely due to the expense of building and maintaining drydock facilities. This would typically be the preferred method of decommissioning for 777 Marine.
The ship enters drydock and is dismantled piece by piece. On completion, the dock is cleaned and flooded again for the next ship. The chances of accidentally polluting surrounding waters are virtually zero since everything is contained by the dock. However, drydock recycling can be more expensive than other methods
Marine Asbestos Removal
The Control of Asbestos Regulations 2012 place an explicit duty on the owner and the employer in occupation of any property to manage any risk from asbestos in their premises.
777 Marine can help you administer all of your asbestos removal and management requirements - from inception to completion - through our comprehensive 'turnkey' asbestos management package.
Specialist at working in environments as diverse as heavy industrial plants, city-centre office blocks, live retail outlets and listed buildings of historical importance, we have the skills to help you safely manage every aspect of asbestos in your property.
Key to managing asbestos is to assess the extent to which the property is contaminated by asbestos containing materials (ACMs). This is performed through a specialist asbestos survey, which identifies the location, type, volume and condition of any ACMs.
777 Marine help you to establish the nature of any asbestos contamination and develop a cost effective asbestos action plan that directly addresses the risks concerned.
Each action plan is developed closely with you, to dovetail with your existing Health & Safety policies, in-house procedures and permit-to-work systems and ensure that the processes selected to remove or make safe any ACMs are practical to implement, minimize disruption to your current operation and can be managed safely in full compliance with regulatory requirements.
The management and monitoring of any remaining ACMs can be provided through our sister 777 Marine Group company, 777 Environmental, one of the UK's leading specialist asbestos consultancies. With surveying and inspection services accredited to ISO 17020, 777 Environmental can help you to develop and implement your asbestos action plan and provide you with all of the surveying, analysis and compliance monitoring services you will need to manage it effectively.
As one of the UK's largest and most experienced independent asbestos removal contractors our directly employed project teams have the expertise, infrastructure support and flexibility to successfully complete projects of all sizes and complexity within demanding timescales.
Our unrivalled experience, combined with the flexibility provided by our 75-strong directly employed multi-skilled project teams and one of the largest specialist plant fleets in the industry, enables us to design and implement the advanced asbestos removal techniques that ensure the needs and constraints of your particular project are met.
Our asbestos, soft-strip demolition and construction specialists work alongside your contractor project teams to ensure the integration and smooth completion of any asbestos works within the broader project schedule.
We document everything we do with detailed method statements and manage our projects in strict compliance with current industry legislation, codes of practice and HSE guidance. A rigorous regime of internal and external audit ensures quality control procedures are maintained at every stage.
We are members of ARCA, dedicated to the promotion of best practice in Asbestos Removal, and are members of the HVCA. Our asbestos removal processes are ISO 9001:2000 certified for quality assurance, and OHSAS 18001:2007 and CHAS accredited for health and safety. We are registered with and approved by Constructionline.
Our expertise in working with asbestos means that you can be assured of the safety, speed, cost effectiveness and legal and regulatory compliance of any asbestos removal project we undertake for you.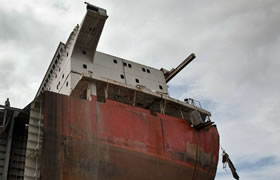 Marine Deconstruction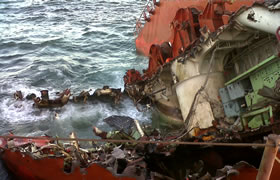 Damaged ship salvaged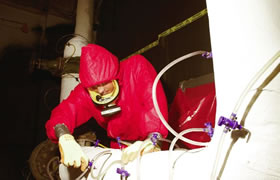 Visit our other Demolition pages