ENABLING WORKS
We specialise in Pre-Demolition site enabling works which render difficult sites suitable for development. From pre-construction advice to complete facade retention solutions
Site remediation and enabling works address the following areas:
Sites secured
Diversions set in place and existing services terminated;
Demolition work and removal of structures and hazardous materials;
Removal of below ground obstructions;
Removal, recovery, recycling and disposal of contaminated soil via our Recycling division; excavations and site-wide clearance and preparation works including haul roads, access ramps, berms and piling mats
Our Enabling division is supported by ancillary activities that are essential to deliver our works to the client according to the brief, including:
Retained Facades
777 are able to offer the complete facade retention and support works solution. This can be fabricated and installed in full by 777's dedicated Façade Retention department to our own specific design or the design of the clients' preference.
Scaffolding
If required for dangerous structures, our scaffold design and erection team are on hand to install a bespoke scaffold package.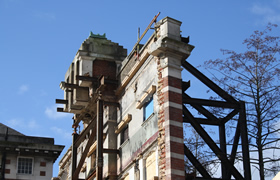 Facade Retention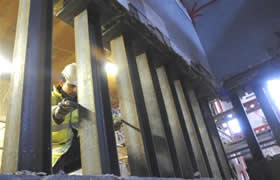 TFL Underground Enabling Works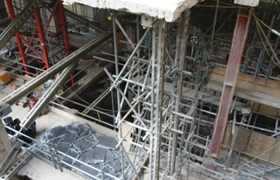 Bespoke designed propping solutions
Visit our other Demolition pages